West End Vacation Rentals at Iron Shore
Looking for a luxurious vacation on the beautiful island of Roatan? Check out the vacation rentals available in West End, located on the Iron Shore. Relax and enjoy the stunning ocean views from your choice of ground floor, second or fourth floor condos. Whether you are looking to unwind in the large pool, catch some rays on the sundeck, or explore the ocean through snorkeling, this community has got you covered. For those who enjoy happy hours or peaceful coffee mornings, there is a palapa available for your convenience. All of the condos are stylishly designed with beautiful Honduran woodwork, porcelain tile, air conditioning, ceiling fans, and all you need to ensure you have the perfect vacation.
The ground floor condo suite is ideal for couples, featuring a spacious bedroom with a king bed, a dedicated work space, a kitchenette stocked with a mini fridge, sink, hot plate, cookware, dishware, microwave, toaster, coffee maker, and bottled water, and an ocean view patio. Looking for something for a larger group or family? No problem, as the entire condo can also be rented, allowing for maximum occupancy of 4 guests. Don't hesitate to inquire about our minimum rental periods, which vary depending on the time of year. Contact us now for further details.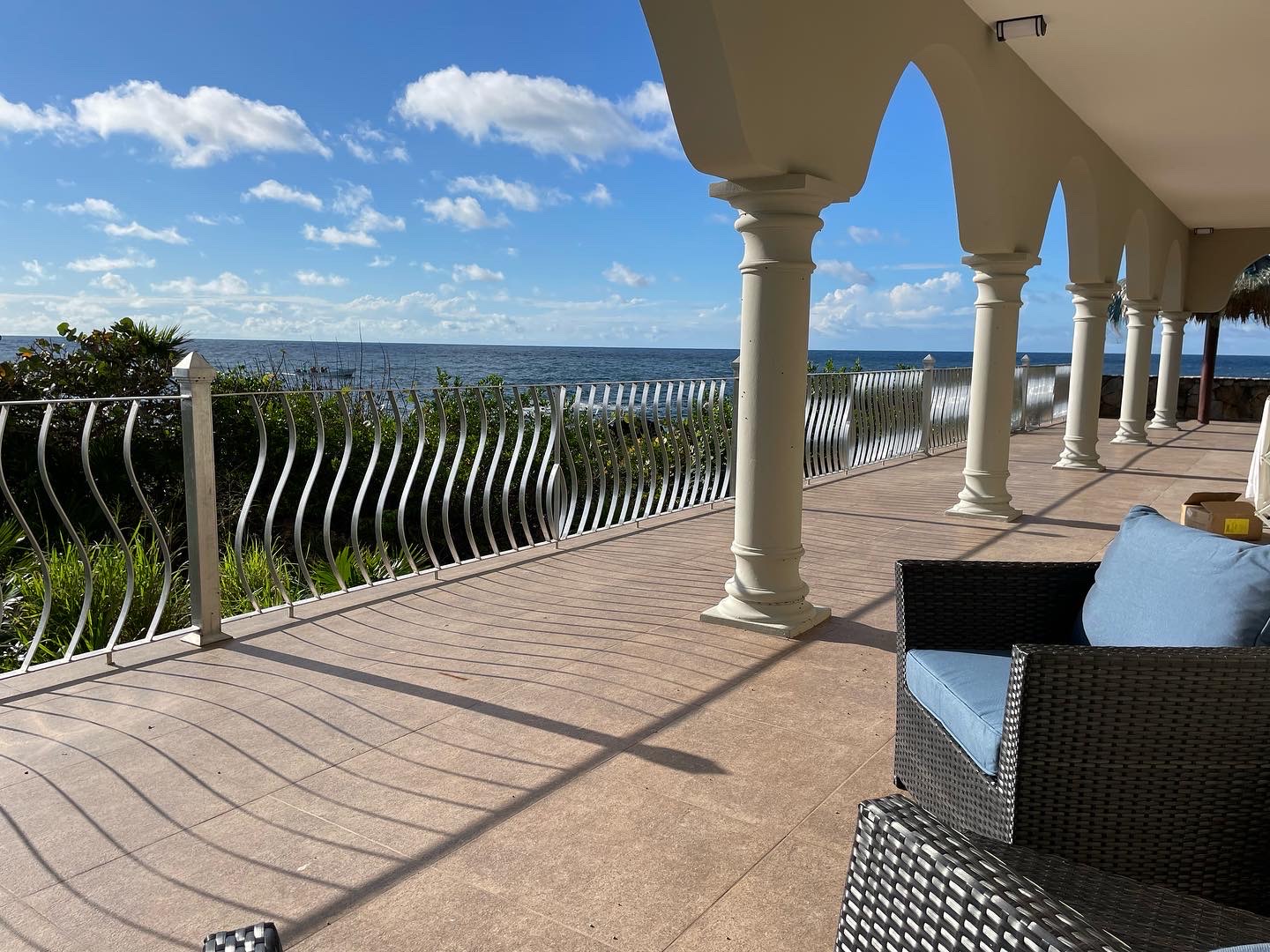 Contact Krys Enger to book both the large and small units to enjoy a two bedroom, two bathroom condo.
Two Bedroom Suites
Second Floor
This beautiful second floor unit boasts two incredibly spacious suites, offering a luxurious king bed in the first suite and a cozy queen bed in the second suite. Upon entering the suite, guests are greeted with their own private entrance, ensuring complete privacy during their stay. Enjoy the convenience of two immaculate bathrooms, mini fridges, coffee machines, microwaves, wine glasses and basic kitchenwares, as well as a dedicated workspace to stay connected during your visit.

Our suite is fully equipped for you and your family or friends to delight in all that West End, Roatan has to offer. Stay connected with high speed wifi, keep cool with ceiling fans and air conditioners, and relax on our comfortable patios while enjoying the sweet Caribbean breeze.

The suite was thoughtfully designed to comfortably accommodate up to four guests, guaranteeing an unforgettable and relaxed stay. Trust us, you won't want to leave!
Welcome to our penthouse condo, the ultimate retreat for those seeking serenity and tranquility. Our stunning 4th floor condo boasts awe-inspiring views of the ocean and legendary sunsets that will take your breath away. Perfect for small families or groups of friends, our condo features two spacious queen-size beds and two exquisitely designed bathrooms. Our open-concept living space is the perfect place to unwind, with a fully equipped kitchen and a beautiful balcony featuring a BBQ grill and a dining space, overlooking the mesmerizing ocean views. Our kitchen is equipped with every tool necessary for your culinary needs, including a full-size fridge, stove/oven, cookware, dishware, microwave, toaster, coffee maker, and bottled water. Our condo can accommodate up to 4 guests, ensuring a comfortable and memorable stay.
2 Bed, 2 Bath Condo Fourth Floor
Wonderful accommodation and grounds with beautiful view. Pool and ocean front a plus as well as easy walk to town. The hosts were the best! We are already planning a return visit.
This suite is beautifully appointed with everything thing you need and nothing you don't. The location is perfect! Great ocean front views right on the iron shore, and just the right distance from the hustle and bustle of West End. You can easily walk to restaurants and dive shops. It's private, quiet, and gated; a luxe hideaway with a gorgeous pool area. There's everything to do light cooking if you'd like. The king bed is super comfortable, and window placement allows for great cross breezes. Two air conditioners allow you to cool the bedroom or living room if desired. This place is the Lap of Luxury at a bargain price. The host is amazing, and readily arranges for transfers to and from the airport. We will come back soon!
We just returned from 17 days in West End and had the best vacation ever. Krystal and Martin were amazing hosts. Move over Google, Siri, and Alexa... if you need to know anything about the island, culture, restaurants or tours and attractions, just ask Krystal. She knows everyone and everyone on the island seems to know her. If you really fall in love with Roatan I'm sure she could help you find your perfect forever home or vacation home on the island. Just ask! The unit was perfect and had everything we needed for an amazing vacation. I was able to cook meals when we wanted to eat in or take a walk and choose from many great restaurants in town. The king size bed was fantastic (I am ordering the same mattress for home!). The condo is situated in a quiet neighborhood with amazing sunset views and great pool. You can snorkel right off the shore! I enjoyed watching all of the dive boats off shore from the palapa at the pool in the morning. There are great dive spots within yards of the shore from the condo. You are only a 5 minute walk to town where you can find groceries, restaurants, bars with live music, dive shops, the beach and more! We were already planning out return trip before we even left. We will definitely be back!!!
Thank you Krystal and Martin!!!!!
Fantastic!! This is great place to rest , the community that lives here are amazing people and our hosts were the best a 10/10 experience. - Two Bedroom Suites